Death of A Great One Noted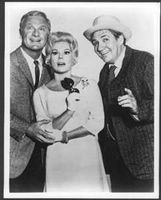 Green Acres and Switch

fans across the world gathered to remember and pay tribute to singer, songwriter and actor Eddie Alberts, who passed away yesterday.
On the 26th of May in the year of our lord 2005, Rock Island- Albert's birthplace - was a city in mourning, with the stars and stripes at half mast over the town hall and a stream of visitors arriving to sign a book of condolence.
Another book was opened at The Green Acres museum, and the Hooterville Hollar produced a special 24-page deluxe color section dedicated to one of the city's most famous sons.

Fans, some of whom half-expected the news of Albert's death, were nonetheless devastated.
Schlocky TV lovers laid cornflowers and lit handrolled cigarettes at Pat Buttram Haney Fields Forever site in Little Rock, Arkansas.
Mourners left tributes at Hollywood Hatch bar and recording studios in Los Angelos, where Mr. Albert recorded almost all of his famous tracks on the monumental Eddie Albert Album album.
Alberts, who was 98, died at at his home, in the company of his son Edward, who also appeared on the Eddie Albert Album album. A former vaudevillian, circus clown and Navy hero who won the Bronze star for his actions saving Marines at Tarawa, he had a lengthy film career before he found his most well known part as lawyer-turned-farmer Mr. Douglas in Green Acres, a 1/2 hour weekly comedy TV show that found its best humor in having annoying country folk intrude on Douglas's dream of a bucolic life in the countryside.