Carville: I Want My Mammy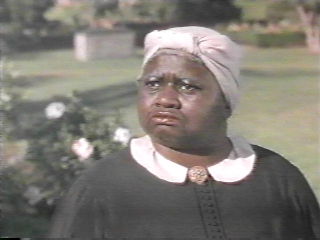 Ann Gerhart
skewers
the rich and pompous with her article about a DC Nanny who has recently published a book. Among her clients are Carville (gee, I thought he came from working class roots?) and Matalin, the DC Propaganda Power Twins:
When Republican adviser Mary Matalin called, she said she'd love the same kind of nanny her husband, Democratic strategist James Carville, had when he was growing up in Louisiana.

"She didn't need to say any more," writes Kline. "If they grew up north of the Mason-Dixon line, they expect Mary Poppins or Alice from 'The Brady Bunch.' If they're from the Deep South, they want me to find them Scarlett O'Hara's mammy. . . . Did my client hear me groan? Gee, Mary -- I tried out the words silently -- we're fresh out of mammies this week ."

But Kline manages to find Ella -- "ageless, warm, bossy" -- and the parents and the nanny form such a tight bond that when Matalin calls back six years later, it's to ask for help in persuading Ella to take a vacation and let Mary bring in someone to help her.

After Ella dies, the next nanny for the Matalin-Carville offspring dresses like J.Lo and puts the girls in little vixenette outfits that look like they're from Juicy Couture, and lasts until the day she calls Matalin at the White House, where she is meeting with Ariel Sharon and Prince Abdullah of Saudi Arabia. A secret rule of Important Washington is: The nanny's calls always get put through. This nanny needs to know: Will the dry cleaner pick up her clothes when he comes for James's and Mary's?
This also cracked me up:
Some actual excerpts from the "Other Pertinent Information" section of the parent questionnaire Kline uses to discern employers' preferences:

"Emily has a great deal of energy and needs to run free. She's in a daredevil phase and experiments with risky behavior, so watch carefully when she walks on the table or kitchen counter. Please gently stop her if she bites you or others. . . . We don't believe in punishment or time-outs. We never, ever use the word 'no.' "

Or: "Every moment of the day is a learning opportunity, from the classical music on the radio to singing to our son in your native language or teaching him to play the piano. Please read, read, read him the intellectually challenging literature we supply."

Or: "Never disarm the security system, even when you're home, and check all cabinet and toilet latches as well as safety gates at all times. Clear all personal visitors to the grounds or in the house with us first. Do not sort our mail or touch our trash. Our offices are off-limits to you and the children. And don't forget #62 sunscreen!"

In total contrast, says Kline, the most common preference that nannies mention is "for a laid-back family."

She throws back her head and laughs and laughs.

"Laid-back? That one really cracks us up. This is uptight, button-down," she tells nannies for the progeny of wealthy super-achievers, several times a week. "Laid-back? This is not it. Go to another city."