My Summer Dance Card - UPDATED AGAIN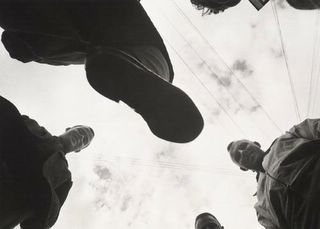 photo by shomei tomatsu

UPDATED: to add more shows - bump it to top of blog... note I DO NOT want to see

The Evens

,

Mary Timony

or

Q and Not U

so don't ask.

UPDATE II:...

UPDATE III: Added Hawk and a hacksaw

I don't really like shows especially in the summer - unless its outside -- and even then.... but here are some upcoming gigs in the DC area I look forward to attending. It seems like a lot of the shows I want to see fall on Thursday nights which makes me hopeful that they won't be too jammed.

If you care to hook-up, I'll buy the first beer (or organic juice drink, whatever) - just drop a line...

Shows I want to see:

Architecture in Helsinki / Head of Femur at DC Nine (6/16) - I fear this will be packed and DC9 is a tiny, tiny space so I may in the end blow it off.

[I BLEW THIS OFF-TOO TIRED-TOO OLD-TOO LAME I AM]

Esmirelda

at Velvet Loungue (6/23) - Just because I haven't seen the bisexual dominatrix potty-mouth in so many years - wonder if she remembers me.

review here

UPDATE:

Del Cielo/

Bear and Butterfly

at Warehouse Next Door (6/24)

did not go

Bellefea

at Warehouse Next Door (6/25).

review here

Manishevits

- DC9 (6/29) - might go to this - not sure why (I think I misepelled their silly name)

Trachtenburg Family

at Birchmere(!) (6/30) - Their van broke down last winter so I never got to see them. The Birchmere generally books hippy acts (and by hippy acts, I mean old fart boring derivative acts, "oldies" bands that don't know they are an "oldies" band and the most terrible of bores: jam bands), though. On the other hand, it's a comfortable venue.

Bro. Danielson

at the Iota (7/7) - I don't care for Woven Hand who is the headliner but I do think Danielson is a talent who is starting to bloom

Ari Heist w/full band at Jammin' Java (7/11) - Ex-Slits dubqueen with the wilde hairs.

Oops, that's Ari Hest not the dreadlocked one

Castanets

at Warehouse Next door (7/21)

Travis Morrison

&

Hellfighters

/

Pagoda

at Ft Reno (7/28)

Hawk and a Hacksaw

at Warehouse Next Door (8/5) - newish band from ex-

neutral milk hotel

ier...

Smog

at Ottobar (8/14) - Alas, former Bethesda native Bill C. can't get a gig in DC but I'll happily travel to the Ottobar in Baltimore to see him.

Magnolia Electric Co

at Black Cat Backstate (8/15) - backup band is Grand Buffet. Or they're serving food.